What Do Offices in 2023 Look Like?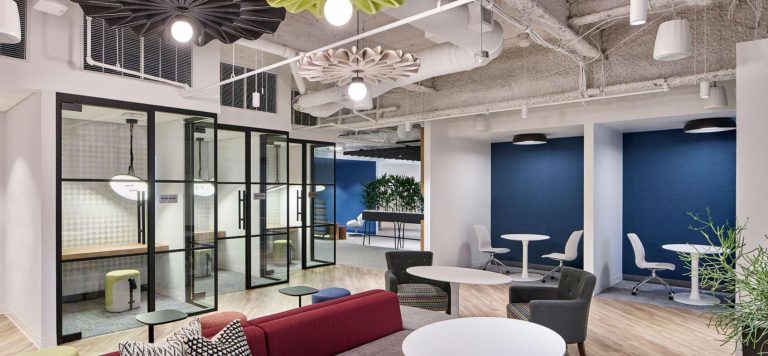 Offices in 2023 are dramatically different from what we saw just a few years ago. With the advent of the COVID-19 pandemic and rise of remote working, many businesses have had to adapt their operations and find technology-driven solutions. Amidst this period of drastic workplace changes, office design has had to evolve alongside our routines and ways of working.
In this blog we will be diving into the many ways offices have adapted to our new normal and have been shaped by a hybrid work model that demands versatility and efficiency.
The Modern Office: Balancing In-Person, Remote and Hybrid Work Models
The modern work environment has undergone a significant transformation, and offices have adapted to keep pace. Offices are now designed to support the changing needs of today's workforce and promote productivity, health, and wellness. Here are some of the key features of modern offices.
Gone are the days of assigned desks and cubicles. In 2023, the modern office is designed with flexibility in mind. Instead of being restricted to a single assigned desk, employees now have the freedom to choose a workspace that best suits their task.
From quiet nooks for deep focus and concentration, to open plan environments for collaborating with colleagues, all types of spaces are available for employees to use as needed. This shift towards a flexible workplace has enabled teams to be more productive and creative, and it has proven to be beneficial for both employers and employees alike.
Technology-Driven Office Environment
Technology has completely transformed the way we work. Today, offices leverage state-of-the-art technology to ensure that every employee can work efficiently. From voice-activated devices to virtual meeting spaces and automated tasks, technology is bringing us closer than ever before while AI solutions help employers streamline their operations, understand how their teams interact and discover ways they can optimize their workplace.
This complete transformation of the modern workplace has revolutionized our ability to collaborate and innovate in both remote and local settings. As technological advances continue, companies have ever more opportunities to succeed through smart implementation of connected workplaces.
Over the past few years, sustainability has risen to the forefront of corporate strategy. Companies recognize not only the environmental benefits associated with green office design, but also the positive, non-environmental impacts on employee morale and productivity.
For example, energy-efficient lighting, low-toxicity sustainable materials, and increased natural light all contribute to an improved ambiance that makes for a cheerful and healthful workplace. By maintaining a consistent focus on sustainability initiatives in 2023, organizations can create healthier spaces for their staff that promote collaboration, comfort, and peak performance.
Before the pandemic, health and wellness were already important topics for the future of work. But as lockdowns exacerbated mental and physical health issues for many, the awareness and emphasis on mental health and overall employee well-being has grown. These topics have become particularly important to business leaders as the connection between employee well-being and productivity has been highlighted. As a result, businesses are adapting their offices in ways that promote a positive employee experience.
From ergonomically designed furniture to standing desks and on-site fitness centres, companies are finding new ways to support their staff with everything they need to be highly productive while taking care of themselves. Additional amenities, such as meditation rooms, therapy rooms and other specialized resources, have shown to be effective at helping staff decompress and recharge so they can get more done during their work hours and have a healthier work-life balance.
Collaboration and Community
Offices in 2023 have been designed to provide a sense of community and promote collaboration among employees. Open floor plans and spaces for shared activities are a welcome change from traditional isolation-based cubicles. Companies are now recognizing the importance of encouraging interaction between employees, both in work-related tasks and social events, which helps build morale and strengthen relationships between team members.
By creating work environments that not only reward performance but also support team-building, companies are striving to increase employee satisfaction, create stronger bonds between their workers and ultimately promote more productive workplaces.
In 2023, hybrid offices are the new norm. They are the perfect example of having your cake and eating it too; balancing remote work with the traditional benefits of an office space. Hybrid offices offer a range of features that help to create a cohesive environment for both remote workers and on-site employees.
One key difference we see in hybrid office furnishing is fewer desktop computers. Instead, many modern office spaces now feature monitors and HDMI cables to which employees can connect the laptops they bring back and forth from their homes to the office, depending on where they are working.
From emerging technologies designed for seamless connections between home and office, to open spaces that maximize the benefits of an in-person environment, hybrid offices are setting a new standard for how we work. As organizations increasingly recognize the need to adapt to modern lifestyles and employee expectations in order to help their staff be as productive as they can, hybrid offices are stepping up as the preferred work places for teams that value flexible work arrangements.
WDI Group Can Help Modernize Your Office Space
The same conditions that have caused offices to adapt to feature flexible spaces, new technologies, sustainable furnishings, fitness centres and open conference rooms have created the need for unique expertise to bring these modern offices to life. 
You not only need companies with technical know-how, you also need companies open-minded enough to find solutions that are tailored to your contemporary office needs. That's where WDI Group comes in.
With over 45 years in office construction, office design, and office furnishing, WDI Group has refined the processes needed to reimagine your office into a bustling ecosystem that promotes both productivity and well-being, while also meeting your specific business needs. So don't wait, click here to set up an appointment today!