Project Spotlight | Food Distribution Company Looks Up for Expansion
With office space and commercial property costs on the rise, companies who are in growth mode are looking for creative ways to expand square footage in their current location and save money.  Is this possible?  It is! The natural tendency for most companies is to start looking for a new location but it may not always be the solution.
We worked with Fresh Start Foods, a distributor of bulk fruits and vegetables who was looking to increase square footage at their Milton, Ontario location.  The company wanted to build a new home for their warehouse and logistics team.  Our crew was up for the task in working together with their team to provide solutions that would meet their business and budget requirements.  As a result, our team was awarded the contract to build a mezzanine project in their warehouse space.  Subsequent upgrades to their front offices and staff kitchen were also completed.  The end results?  As seen from the images, Fresh Start gained nearly 800 square feet featuring an open office area, kitchenette, a few offices and a mechanical room all outfitted with modern and brightly coloured furniture.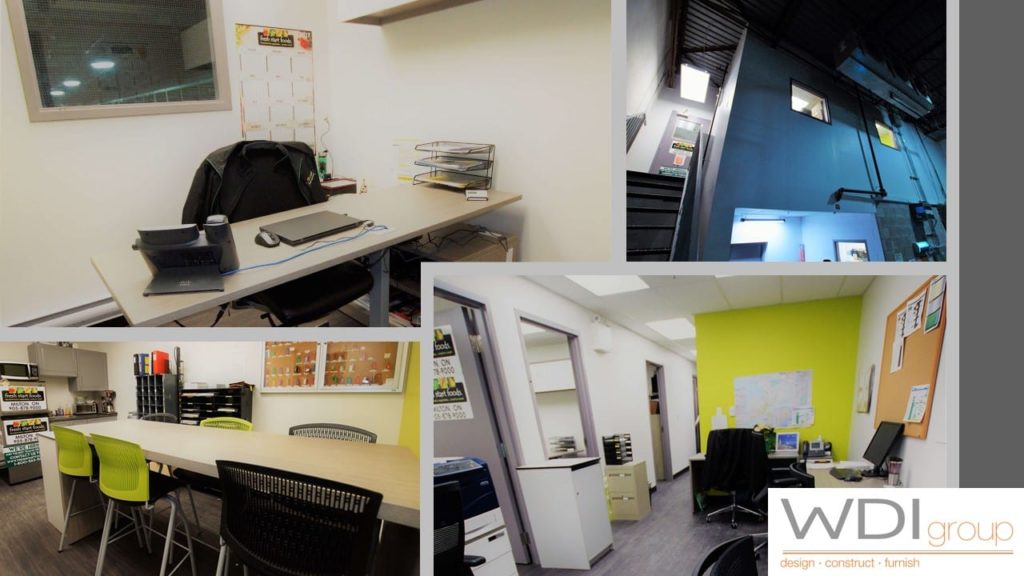 If you are looking to expand, don't automatically think about moving but consider looking up.  Building a mezzanine floor is the most cost-effective way to upgrade your work space and make the most of your investment.
Here are some other reasons why a mezzanine could be the solution you are looking for:
Capitalize on your existing space
If your building has ample ceiling space to accommodate a second level (ie warehouse, distribution or production area), why not make the best of your investment and build up?  By installing a mezzanine floor, you can create more room for productivity.   It can be used for storage, additional office areas or even a secret area to have an afternoon power nap…just make sure you've okayed it with the boss!
Overall savings
We all know hot air rises.  Instantly, heating bills are reduced once you've created new work areas on the upper level which is a no brainer.  The length of time that it takes to build a mezzanine vs. finding a new office location should also be considered.  Not having to move also means minimal disruption to your daily business operations and workflow.
Location, location, location
Moreover, if your company has spent time over the years to establish itself in a geographical area that makes sense strategically for your business partners, clients and your employees why move?  You may do more harm than good.
Mezzanine floor designs can be easily incorporated within your office scheme and can improve the overall look.  Decide on what mezzanine layout works best for your or better yet speak to one of our consultants who can help you decide.  Call today 1-888-304-3114.