How To Design a Corporate Office
Not too long ago, office space was synonymous with cubicles and dull beige tones, but modern office design trends have made a huge departure from its drab legacy. 
Today, generic cubicles and flimsy furniture have been replaced by ergonomic chairs, natural light, and open-concept office design trends that encourage communication and boost productivity. The goal of the modern office environment is to create a workspace where employees feel motivated to work and contribute to the company culture. With the right design and décor that combines a mixture of collaborative spaces and private offices, a corporate office can boost team morale and help to enhance collaboration, which leads to an overall increase in productivity.
While most upper management is aware of the benefit of open office spaces and strong interior design, knowing that you need a new office design and actually carrying out an office construction project are two separate things. In this post, we will highlight a few of the important things to consider when thinking about how to design a corporate office.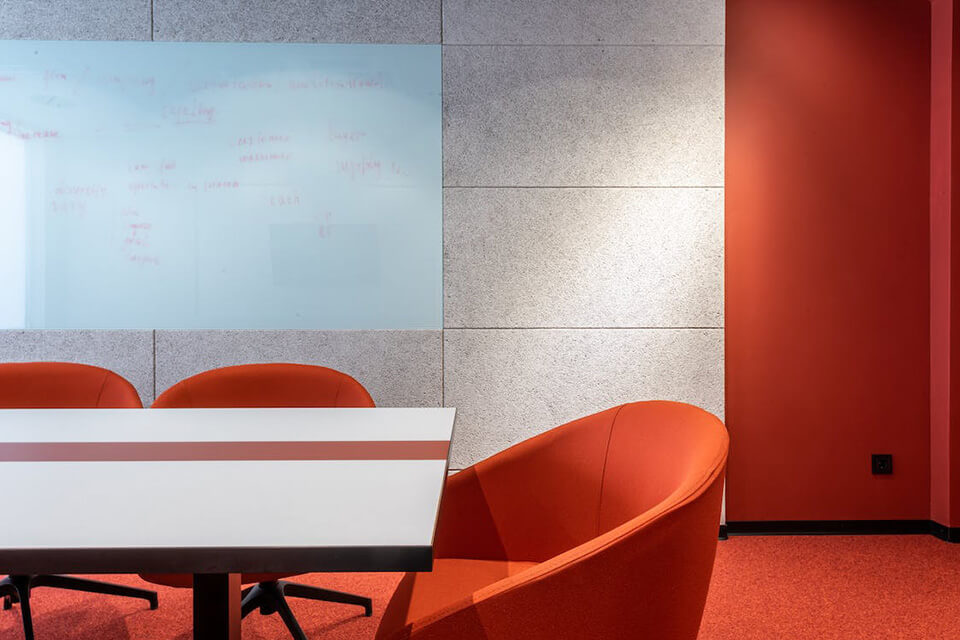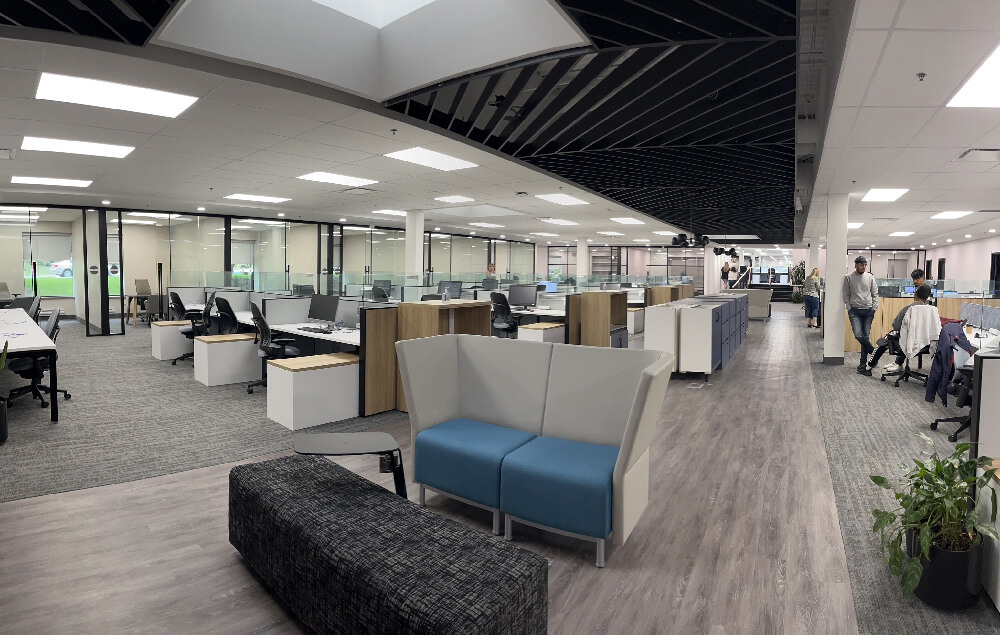 Perks of Improving Corporate Office Design
As mentioned, the key benefit of redesigning corporate offices is the improved business productivity that follows. The goal of office design should be to utilize open concept office design ideas to create environments that offer both isolated quiet areas and community areas that double as inspiring workspace.
In the modern business landscape, it is a challenge to both attract talent and retain talent. Attractive workspaces are an important part of the solution to this common business challenge. The best way to ensure you master this concept is by gathering employee feedback and creating a responsive office design.
Refocus Office Layout onto the Employee
Office furnishing plays a large role in how well a space comes together. Successful office spaces offer flexible workspaces that inspire open communication. Also, varied spaces, such as a lounge area that offers a home-like atmosphere, can make employees feel valued and comfortable in the workplace.
The addition of comfortable sofas and adjustable desks can help employees relax at work and greatly impact how they feel about their workspace. Incorporating ergonomic furniture can also help offset some common health problems plaguing office workers who sit for long periods of time. Taking a minute to consider the many aspects of the typical workday can help you create an effective office design that is balanced between professional and comfortable.
Tips for Building Corporate Culture with Office Design in Your Current Space
While building the right atmosphere for workers to prosper, it is also important to stay focused on emphasizing your brand. A well-designed office offers all of the features your team needs to thrive, but it must also uphold and guide your corporate identity. 
For example, if your company creates organic, environmentally-friendly pet food, natural materials that minimize the ecological footprint of your office renovation or construction project reinforce your brand's environmental commitment and core values more profoundly than a catchy slogan ever could. 
While this variable will change based on your business, it is important not to get so focused on interior design trends that you forget your company's identity and image. With the right office design, your space can play an integral role in telling your and upholding your mission to all employees and potential partners who walk into your meeting rooms.