Creating the workspace you need to succeed
The entire redesign of the office space now includes keeping employees and clients safe.  The goal for all companies is to achieve productive and inspiring workspaces that allow for social distancing.  Although many companies are still trying to understand how this best works for their business needs, there are many options to carefully consider before proceeding.
There may be areas of your office you may have to reassess which may lead to an entire redesign strategy that addresses your business and culture.  Most staff that will be returning to the office may be working through a hybrid working model so the office may be serving as a hub for group meetings and or collaboration. 
Gone are the days when the office redesign had efforts focused on furniture upgrades, colour schemes, and incorporating new amenities in and around your workplace space. Companies must now rethink their workplace interior design to reflect the new norm as people gradually return to work following COVID-19.  Over the last year, more individuals have become aware of the importance of health and safety measures in protecting our well-being.
The challenge is, how can we create a workplace that is functional, safe, and appealing to the eye? Incorporating new techniques and design into a current environment rather than trying to "repair" may be a viable option. Proper office interior design and planning may transform your ordinary workplace space into something truly fabulous.
Changes to the Office Layout
Employees and businesses alike are rethinking their office design in the wake of the pandemic. While many offices implemented interim steps to safeguard health and safety, there will also be substantial long-term improvements that will persist long after the pandemic fears have passed.
So what are some of the features we'll be seeing more of in the new office environment?  Here is a list of options that clients are thinking about in today's new office space: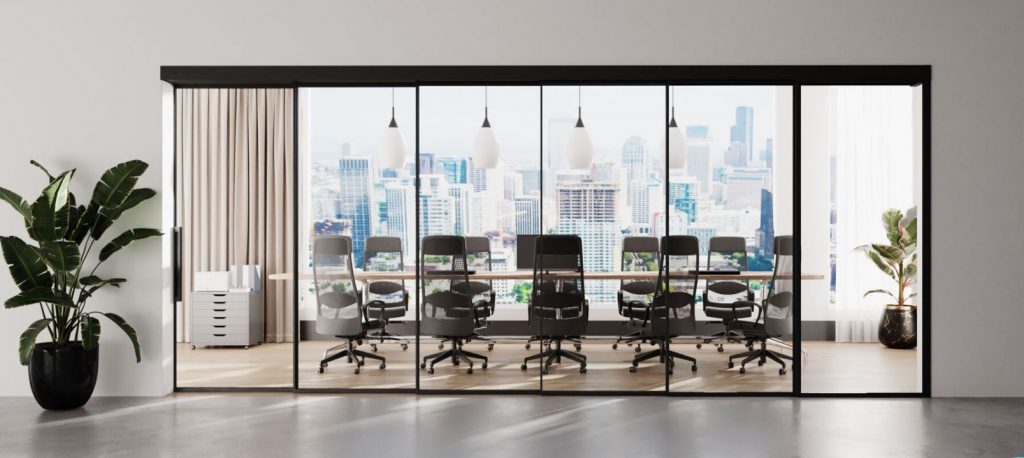 Social and Physical Distancing
Physical and social distancing is the new standard.  As many people well know, not everyone who is coming into the office will be comfortable with the idea initially.  As a result, it's only natural that our workplaces will reflect this shift. Not only do you need enough space in the office corridor to go past your coworkers, but you also need enough space between workstations for people to sit and work comfortably six feet apart.
If your desks are next to or across from one other, options like putting high barriers between desks, such as plants or a decorative half-wall, can improve the office interior design. Colored mats on the floor to designate someone's workspace, modern cubicles, or an increase in solitary offices are some more ways to elevate the space to express social separation.
Open and Airy Spaces
Companies will have to carefully consider office space design and layout, especially smaller office areas, to ensure that people have at least 2 metres between them. The use of filing cabinets to keep space between desks is a good option for smaller offices.  This not only allows for separation but creates additional storage.   Other options could include the installation of plexiglass dividers to assist separate the spaces.
Easy to Clean Office Furniture
Plush sofas and other lux furnishings may be a thing of the past for most offices as it is not practical for maintaining the cleanliness of a room or area.  It is important to think about easy care, cleaning, and maintenance of the furniture items in a room. This is especially critical for collaboration areas that will have plenty of high-touch areas.
Items that will be touched by many people daily must be easily cleaned regularly. Furniture placement in a space can also make a difference, especially in high-traffic areas. Consider how the placement of the items will affect your capacity to properly clean the surfaces while planning the general layout of the space. It will not be easy to clean areas by moving full pieces of furniture numerous times a day. 
Employers should also consider investing in ergonomic office furniture.  Public Safety Canada has outlined guidelines and are encouraging employers to maintain ergonomic conditions for their employees.
Access to Sanitation Supplies
It's normal now to see hand sanitation products and stations at reception or front entrances of offices.  Having a good supply of cleaning products in the office is a necessity and should be readily accessible for everyone.  Considerations to incorporate storage options for cleaning products and/or bulk supplies should be factored in the overall design of each workspace.   Protecting your staff from the spread of germs by using gloves, masks, and sanitation wipes is a good idea. Because wearing these products during the workday may be uncomfortable, companies should decide on how protective equipment will be enforced when working on site.  For example, wear a mask if you are getting up to go to the bathroom.  Once you are back at your desk, you may have the option to take the mask off.   
Providing a healthy balance of safety and productivity will be the norm in today's workplace.  When weighing options on how to approach the overall workplace design strategy, think about discussing your options and ideas with an office design consultant who can lay out plans and work out the best solutions suited to your business and address the long-term needs of your people.