Why you seriously need an office pod in the workplace
These days, most workplaces have an open floor layout. It has grown in popularity to enhance space use, cut costs, raise productivity, and improve staff collaboration.  It's also a good technique to deal with employees who are feeling lonely at work and to encourage teamwork settings.
It is, however, not without some challenges.  The one issue is privacy.   An open-plan workstation tends to have more office noise and distractions, all of which can detract from productivity.
Cue in the office pod! Quiet pods, creative pods, privacy booths, or phone booths are just a few of the names given to these essential office units. Office pods are not only stylish and match your office's appearance, but they are also quite functional in a variety of ways.
Adding a work or meeting pod, rather than switching to a closed floor plan to offer seclusion and eliminate noise distractions, is a cost-effective solution. Rather than moving to a closed floor plan to provide isolation and remove noise distractions, adding a work or meeting pod is a cost-effective alternative that provides a micro-environment while retaining the collaborative part of an open workplace.  Meeting booths and pods have become commonplace in the modern workplace, spanning a wide range of industries and sectors.
Most offices have already migrated to the hybrid office model.  The open workspace plan addresses social distancing measures and is the most effective way to maximize the use of space, lower costs, boost productivity and increase collaboration between employees.  This is the very reason why office pods have grown in popularity and will continue to become a main staple in the workplace.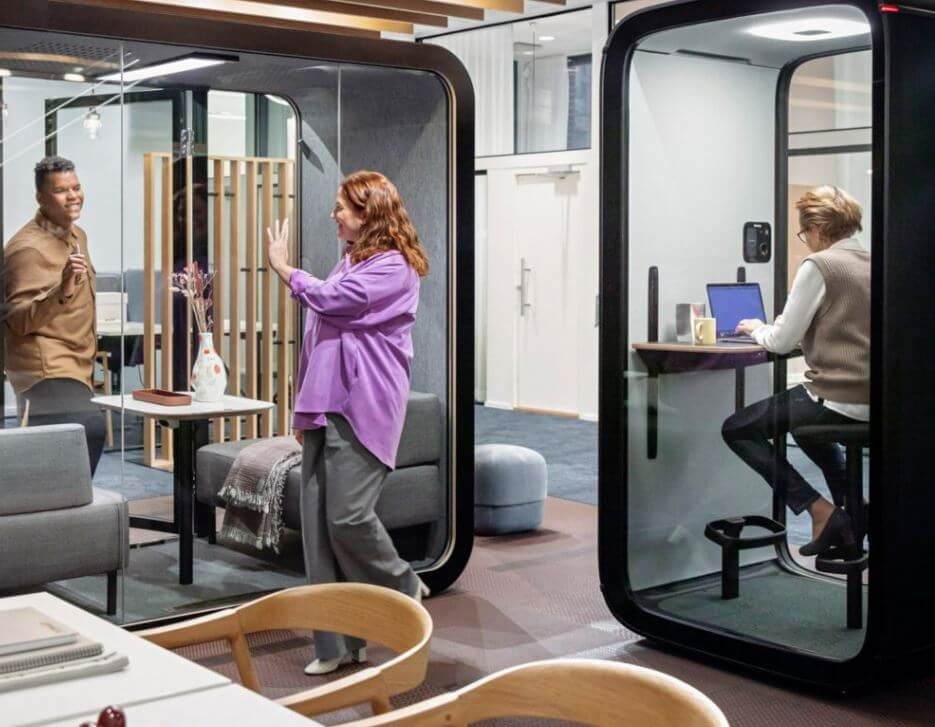 Here are some top reasons why clients are investing in privacy pods:
Brings Focus Back into the Workplace
Quiet pods are the best option for open office space plans when you need some privacy or some peace and quiet. The benefit is that they take up little space to the existing floor plate and are insulated to ensure that there are no noise distractions coming in.
More Quiet Equates to Less Stress
Creating a work environment that is geared to address common workplace challenges is an effective strategy to improve employee satisfaction and experience. Office pods are the perfect cost-effective solution for employees who are slowly integrating back into the office atmosphere or who prefer a quieter space to work in. Stress levels will be reduced, and motivation and workplace happiness will be higher.
Leads to Collaboration
Privacy pods come in all different shapes and sizes – choose your size to accommodate one or a team.   They are used for independent work time but can also be used for meeting groups too. A work pod provides a perfect atmosphere for stepping outside of a noisy, dynamic room and into a dedicated location for teamwork in a busy office. 
Anyone in the booth can communicate and brainstorm with confidence because only the individuals inside the pod can hear them thanks to the insulated walls.
Extremely Versatile
Work booths are available in a variety of shapes and sizes to meet your specific operational requirements. The options are endless, whether you want a four-person meeting room, a single-person office, or even a nap pod!
Furthermore, as companies continue to test out the hybrid office, privacy booths can be simply rearranged or moved with no interruption to daily routine whether there is a change to the office layout or a need for relocation.  These are particularly well-suited to businesses with limited space and a need for greater flexibility when it comes to scaling up.
Cool Designs
Did we mention that they look cool? They add to the decor of the open work environment by providing a lively, stylish, and eye-catching office piece. The booths feature a simple, timeless design and can be customized to match the end user's brand colours and materials.
As the office environment continues to evolve, the office pod will remain a necessary staple and an essential part of today's workplace contributing to the new way of work.  So many styles and selections to suit your office needs, the options are truly endless.  Speak to one of our consultants today!