Returning Safely To the office
As of March 2021, Bloomberg reported that more than 271 million vaccine doses have been administered worldwide. Returning to the office environment is looking very optimistic for most but precautions, more than ever, are being enforced. With the global vaccine rollout, companies are carefully thinking about their return-to-work strategy.
The workplace business model has been continually evolving but since the global pandemic, it has completely been revolutionized. Many are concerned about workplace safety and wondering how this will impact physical changes to the office environment.
Employees have successfully transitioned to remote working and understandably want to put their health – and the health of their loved ones – first, which means being cautious about where they go and who they come into contact with. If employees don't believe the office will be a safe environment, they won't be coming back in a hurry, even as the number of vaccinated colleagues grows.
The vaccination alone won't deliver the post-COVID office (unispace.com) by Steve Quick, Global CEO at Unispace.
According to Health Canada, most of the Canadian workforce who generally have a healthy status will have to wait for the rollout to begin in August. While the government is primarily focused on front-line health workers and the vulnerable sector to receive the first dose of vaccinations, a growing concern with the "healthier" population is happening. Many are worried about contracting COVID and virus variants as they continue to go about everyday work life during the wait period. As a result, many organizations are striving to ensure the health and safety of their employees returning to the office by developing vaccine policies. Trying to enforce these guidelines which require all staff to vaccinate could trigger a plethora of legal issues and risks for businesses.
Most employers are shifting their return-to-work programs to focus on encouraging staff to maintain optimal health by getting vaccinated for COVID. Enforcing mandatory vaccinations will continue to be an uphill battle for any HR department despite educating staff about COVID-19 and health protocols.  Employees will also remain leery of coming into close contact with fellow co-workers even after getting vaccinated.
Virus Testing in the Office
Testing and temperature sensing equipment prior to entry in the office environment ensures staff that their employers are looking out for their wellbeing. Since COVID, this process has become standard COVID protocol for many businesses. Larger organizations are also investing in swab testing administered by health professionals. However, the cost and complexity of these programs are not realistic for most organizations who instead seek out more sensible solutions for employee safety.
Reduced Office Capacity Planning: A Good Thing
The pandemic has caused many changes in the workplace, including the enforcement of social distancing to ensure that employers are doing everything possible to protect their employees' health and well-being. Reducing office capacity is also changing the way we function and operate to build a more productive and efficient climate. Companies are beginning to see the post-pandemic world as an opportunity to reimagine their identity and future growth potential.
The post-COVID office setting is being reinvented to provide more adaptable space to meet these needs, such as with movable and multi-purpose fixtures, chairs, partitions, and walls that can be configured according to function, as well as COVID safety measures.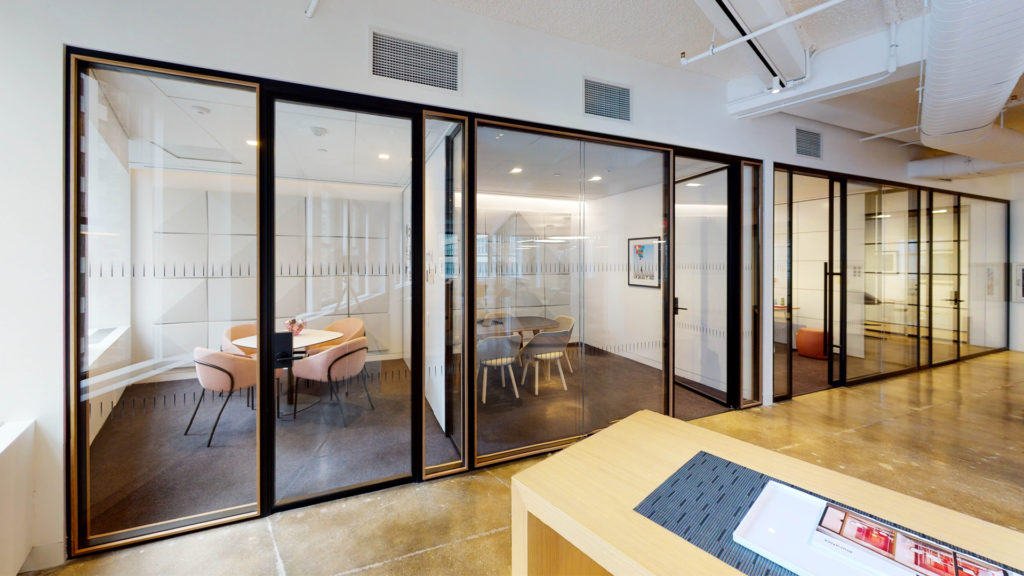 Key Points to Consider When Reimaging the New Office:
With fewer people in conference rooms, who will be physically separated and joined by virtual peers, sound-absorbing panel options will be necessary to ensure that everyone can hear each other clearly.
For better management of office capacity and to help keep staff secure, technologies such as room occupancy sensors or Wi-Fi triangulation sensors can be implemented.
Employees can also take responsibility for letting cleaning contractors know when they have used an area so that it can be cleaned properly. This will also ensure that company's safety protocols are being followed and adhered to.
With the positive news of global vaccinations, businesses can look to the future and continue to focus on making work environments fit for purpose and provide a safer return for staff.  Rethinking how the workplace operates post-pandemic helps organizations be better prepared to accomplish core business goals.