Office Design Trends for 2022
Another unprecedented year is nearly gone! As we end 2021, let us all reflect on the different changes and significant global shifts COVID has brought into our personal and business lives.  Among the many valuable lessons we've learned, this virus has made us keenly aware of the importance of health and wellbeing.  It has reminded us how life is very precious and taught us all to live life cautiously, carefully, and safely.  Many of us have either known of someone who tested positive for the virus, lost loved ones, or even contracted the illness themselves.  As each wave emerges, we are learning more about how to normalize and embrace this new way of life, especially when returning to the office.  Many companies have erred on the side of caution and have been forced to shift their business operations model and processes to look at things differently.  Thankfully, the workforce has been resilient during these changing times and new opportunities have transpired as a result.  We have developed better ways of working productively and effectively giving everyone hope for a brighter and better workplace.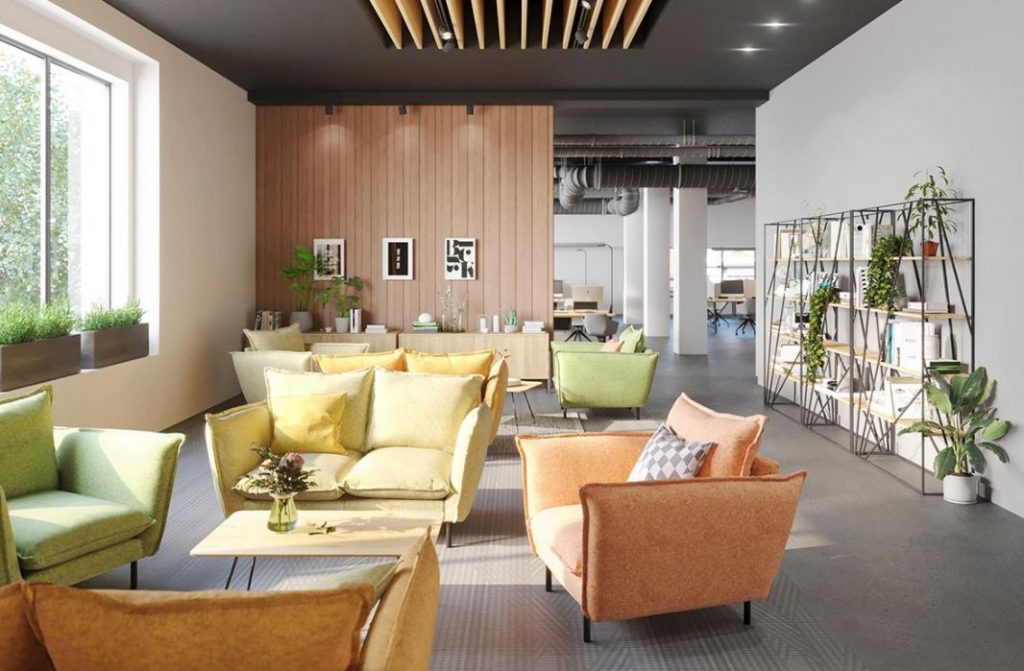 Here are some office trends to look out for in 2022:
Comforts of the Home at the Office
Designers might add residential aspects such as comfy sofas and chairs, soft lighting features in common areas, or artwork displayed throughout the office to encourage a safe, pleasant sense of "home" in the office. Wood flooring can add a sense of coziness to a room. Engineered hardwood and wood-look LVT are regularly used to give the office a homey feel.
Flex Workspaces and Pod Style Layouts
Employees are increasingly searching out quiet spaces or enclaves where they may work safely in the office. Smaller, private sections and "pod areas" with enough workspace, seating, and outlet access are included in these open-office environments so employees can safely conduct phone calls, video conferences, or find a quiet place to work. Engineered hardwood or LVT are ideal flooring solutions in these flex areas due to their adaptability. These areas must also be able to accommodate employees who are part of they hybrid work. Easily transformable workspaces will be very popular in 2022 especially for small and mid-size businesses.
A Safe Place to Work
While touchpoints (such as doorknobs and elevator buttons) remain a priority, many businesses are choosing to select hard surfaces and design components that are easy to clean, disinfect, and maintain. Easy-to-clean flooring options can also include LVT and engineered hardwood options which are low maintenance are quite easy to look after.
Accommodating areas for social separation, hand sanitizing stations, and room capacity limits are also significant office features that help employees feel safe.
Lighter and Brighter Workspaces
Natural lighting and brighter/neutral colours will be a common theme for offices in 2022. 
If possible, incorporating more natural daylight into the office will be essential.  Don't have many windows?  Consider the use of diffused lighting and install artificial lighting that mimics natural light.  Also common trends are matte, non-reflective flooring and wall finishes.  Designers should consider the light reflective value when choosing design elements. This relates to how much light a paint colour reflects. The less light a colour reflects, the darker it is.
Color helps businesses stay on brand, and many organizations find methods to incorporate their logo or brand colours into the design of their space, such as with coloured furnishings, pillows, or even carpeting. With LVT, you can even cut your brand logo into the lobby carpet to make it stand out. Another great branding idea is how company colours are being used in health and safety signage.  Promote safety guidelines while showcasing your brand colours – how efficient!
Lighter hues with a variety of grays, greens, and neutrals are one of the office interior design ideas for 2022 (gray being one of the two Pantone Colors of the Year for 2021).  A popular option in an office environment is light wood appearances coupled with flashes of colour on floors and walls, which can help employees feel more cheerful and positive.
Sustainability and Greener Options
Living walls or green walls are real gardens and plant displays that are mounted to inside walls in many modern office buildings. Many companies use plants in their office design.  While some rooms lack windows or have inadequate lighting, introducing plants helps to offer a touch of nature and bring the outside in. Check out more sustainability ideas here. Greenery can also be used as a complement to the natural design qualities of engineered hardwood and/or LVT flooring. Furthermore, plants at the workplace not only contribute to the relaxing, homely atmosphere, but they also provide several health benefits which include increased productivity and improved air quality/oxygen flow.
Taking a break from work and tending to your plants will help employees to relax. It also helps staff to better understand seasonal changes and how they affect plants. This facilitates the exchange of information and experiences that would otherwise be impossible. This type of knowledge and discussion also aids in the development of an instinct to make healthy choices in both living and eating, resulting in a healthy lifestyle."
Pitch some of these ideas at your next office redesign project meeting and promote a healthier and safer environment for your team.  Happy New Year wishes to all and we look forward to working with you in 2022!