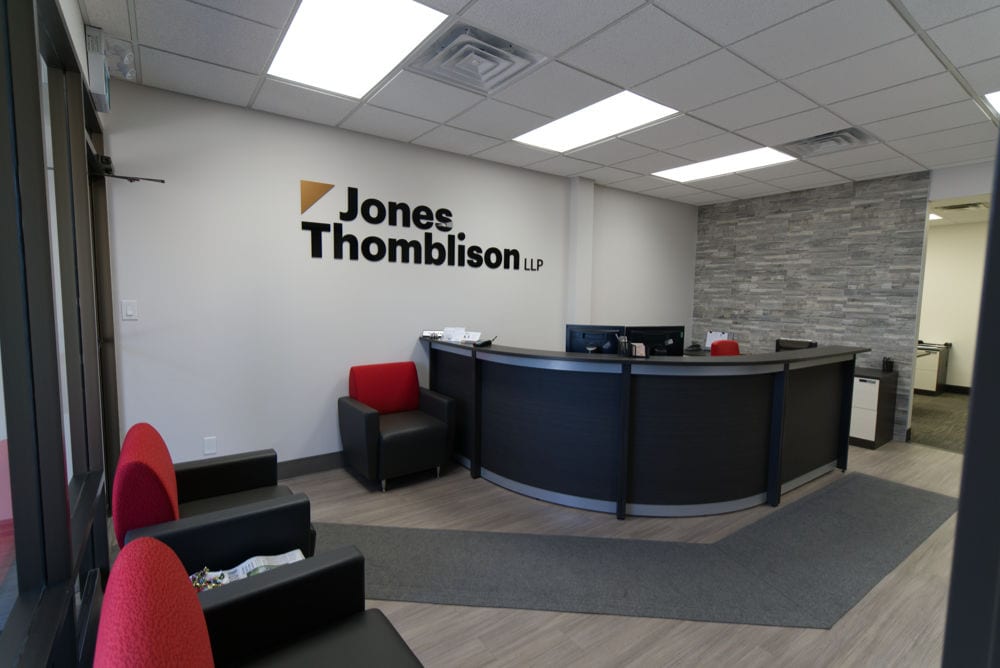 Jones Thomblison LLP
Location:  Burlington, Ontario

Size: 6,000 sq. ft.

Jones Thomblison LLP is a Burlington-based Chartered Accounting Firm of competitive advisors who are always willing to go the extra distance to help their clients succeed. With combined experience and a team of knowledgeable staff, they provide professional advice to guide their clients when it comes to their financial decisions. They offer a full spectrum of financial services ranging from small business advice, to estate planning.
Jones Thomblison LLP's office design and furniture had become outdated, and it was time to consider a new look. They wanted their space to better reflect the company's personality, and have a more appealing aesthetic both for clients, as well as employees. They selected WDI Group to manage the transformation of the space from initial design and planning, to construction and installation. This revolutionary new design optimized the existing interior space while giving off a contemporary vibe that Jones Thomblison LLP desired.
WDI Group managed the complete project, and was able to provide one point of contact for these key areas throughout the entire project.
Space Planning
Interior Design
Architectural & Engineering Design
Construction
Supply And Install New Office Furniture
If your company is interested in refining and optimizing their workspace into a model of efficiency and style, we want to hear from you. Our journey process begins with learning more about your company, its culture and its needs. We invite you to fill out the form to the right so that one of our agents can get in contact with you, and learn how we can be of assistance.