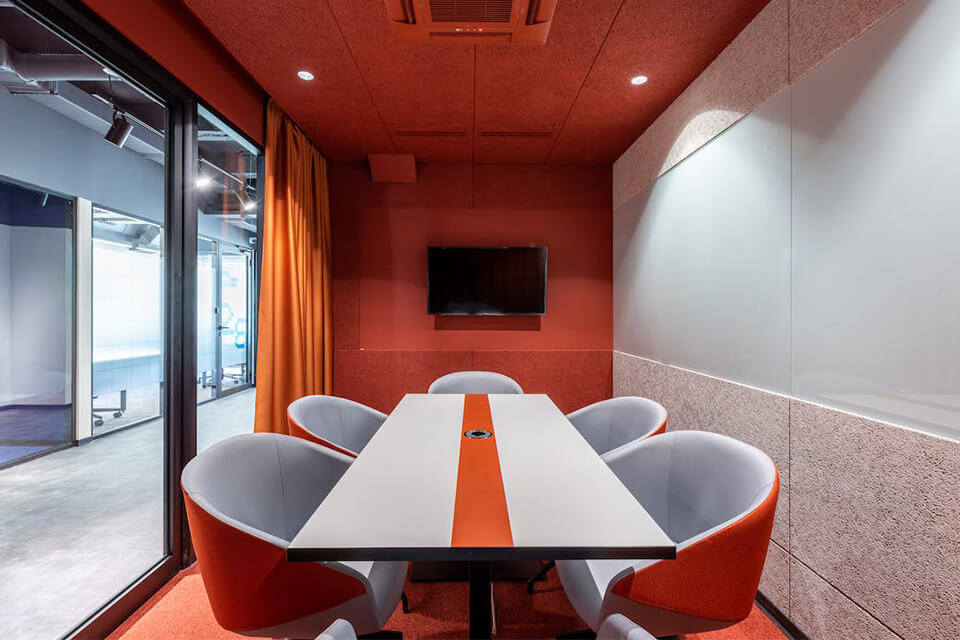 Office furnishing is probably not the first thing on your mind when you move into a new open space, but it's something that can have a huge impact on your team's productivity. A well-decorated office with lots of natural light can help create an energetic yet calm environment. On the other hand, an uninspiring and cluttered space can undermine motivation, leading to declining productivity and spiraling morale.
Here are some furnishing tips that you can use to complement your office design to create the ideal environment for your team:
Planning is the first step in furnishing your office space. Before shopping for furniture, decide what kind of look and aesthetic you want your furnishings to create. Do you want a clean, minimalist look? Or do you prefer a more colorful, eclectic style? Take into account the size of the room and how much space there is for each piece of furniture.
When planning your office construction, ensure there's enough flexibility in your space to accommodate furniture of varying sizes, so that it doesn't block access to storage space or other necessary items, such as electrical outlets or fire extinguishers.
When buying furniture, you may be tempted to go with the most affordable options, the truth is that this approach will end up costing you more money in the long run. Cheap chairs can be uncomfortable, which your employees will not appreciate, and they will also break down faster than quality pieces of new furniture, which means that you will have to replace them sooner than you would if you had invested in higher-quality pieces in the first place.
If you are looking for a bargain, going with secondhand or used furniture can be a good option. Someone else may have already purchased this used furniture and decided it didn't work well for them or their business needs—but it could work perfectly for yours, if you are willing to invest the time, effort and legwork to find the right fit.
It's easy to get lost in the sea of bland office furniture and bare walls, ending up with an office space that looks like every other one you've ever seen. But if you're looking for an opportunity to stand out, why not add a personal touch?
You might be surprised at how much impact even the smallest details can make on your coworkers' perception of your personality and taste. Your office is the first thing people see when they enter your workspace, so it's important to ensure it reflects your style and interests.
So what should you do? Start small. Add a few decorative items—they don't have to be expensive or fancy; just think about what makes YOU happy and feel inspired.
4. Try Keeping Things Fun
Keeping things light and fun in your office is a great way to make employees happy. But, how do you do it? 
One way is to keep your office stocked with games and toys. You can have a dartboard, pool tables, massage chairs, or even a pinball machine. If you want to go the old-school route, you can get a classic arcade game like Pac-Man or Donkey Kong.
Employees will appreciate feeling like they're not just at work but also at play.
5. Lighting and Accessories
It's important to have good lighting in your office. It will help you see better, especially if you need to read a lot or work with small objects that are hard to see in low light. But it's not just about seeing—it's about feeling good when you're working! If your office is too dark or too bright, it'll be hard to concentrate on what you're doing.
When choosing lights for your individual offices, think about what kind of light they emit (warm? cool?) and whether the bulbs are dimmable or not. You may also want to consider adding some accent lighting around the room—maybe a lamp on your desk or a floor lamp beside it.
You'll also want to consider adding some accessories (like plants) that can add color and texture to an otherwise bland space.
You've heard it before, and you'll hear it again: comfort is key. You want to ensure that your employees are comfortable in a serene environment, so they can focus on doing their jobs, not trying to find a comfortable chair. One popular option these days is to go with sit/stand desks that can be easily converted from a standard, seated desk to a standing desk. 
If you're looking for a new office chair, go for something ergonomically designed. Many of the chairs available today were created by people who have studied how people sit for long periods and how to make it easier for them to do so. You'll find that these chairs typically have adjustable armrests with multiple height options, as well as lumbar support and other features like wheels or casters that allow you to move around without having to stand up all the time.
The best way to ensure comfort is by choosing furniture made from quality materials. Look at the materials used in each piece of furniture—for example, leather is more comfortable than plastic—and choose items made from hardwood or metal rather than plastic or laminate when possible.
We hope you've found this helpful, and we're always here if you need any design advice!
If you want to learn more about how to furnish a stylish office space, check out our blog for more information on everything, from the best furniture options to ensure that your office environment is as welcoming as possible.
If you have an office furnishing or office construction project in mind, contact WDI Group today.  As a full-service, design/build interior design firm, we can help you with all aspects of office space design, construction, and furnishing.