Effective Guidelines on Deciding How Much Office Space You Require
There is no magical formula that will truly determine how much office space you require these days.  You can find a plethora of on-line info that will tell you costs, how much space each person requires and ideal square footage.  Let's not forget these are just guidelines.  The reality is, you and your team can best determine what or how much office space you require with the right planning.  On average, the office space per employee can range from 70 to 130 square feet.  This can all vary depending on the role for each team member.   But guess what? These numbers are in constant flux and as we continue to decrease our footprint in office space and real estate costs continue to rise, people are disappearing from the work environment…not for good, just working remotely or spending less time on-site.  This is just one of the many factors that are changing the way we view the future of our office environment.  Many businesses have opted for the open concept layout trend as a cost-effective solution but beware this solution is not a one-size-fits-for-all.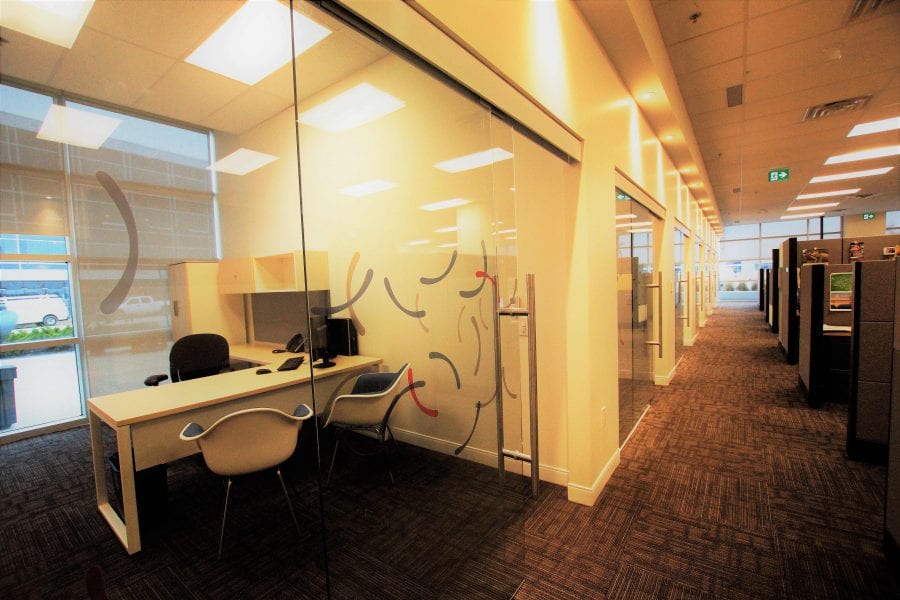 Check out the valuable points below that will help you decide on office space that works best for your business:
Evaluate Your Business Needs
Will you be bringing clients to your offices or will you be visiting them?  Carefully envision how you will be using the space with your respective teams and departments.  Will you be needing rooms for privacy and does it really make sense for you to have an open floor plan?  Start by reviewing your customer's requirements.  This will help to lay the ground work for making effective decisions right from the onset.
Room for Growth?
The future is unknown but with proper planning on where your business is today and where it is heading in the next 3-5 years, you can generally forecast and put some considerations into growth plans.  This may seem like an obvious question, but many companies overlook this key factor.
Understand Your Lease and Rental Agreement
If you are leasing or renting space always review your contract thoroughly.  Beware of rental rates increase.  Although rental rates are usually negotiated at the time of renewal, you also can try to cap any increases when signing the original contract and decide on an agreed percentage over a period.   Always review your lease before signing it.  A lot of companies make the mistake of not going over the jargon with a fine-tooth comb.  If something doesn't look right always ask before finalizing.  By asking the right questions, you could be saving yourself a lot of cost and headache in the long run.
Calculating Your Square Footage
Ask yourself the following questions:
How much usable space will you get for your money?
How much of your rent is apportioned to public spaces? (ie hallways, bathrooms or lobby areas); you can generally account for this to be about 25% of your total space)
It may also be helpful to contact a real estate lawyer to further understand business regulations and your rights/ responsibilities pertaining to a lease.
Still unsure?  Let one of our consultants help you decide on your space planning requirements.  We can also provide you with optimal furniture options that will work well in your space.  Let's chat office design and space plan today at 1-888-304-3114.