Designing for the Human Experience
Human experience will become an integral part of the future of design. In this period of significant technological change, demographic shifts, global volatility, and climate change, people continue to be the constant. It is important for designers, to rethink and reinvent how people experience every part of their life, as well as the places and settings in which they live, because of this pivotal convergence of change. There is now, more than ever, an opportunity to improve the world through people-centered design. Interior design is now being practiced with a focus on how the environments we create may enhance human experiences that bring people, communities, and businesses together.
Interior design is the art and science of designing functional, safe, and beautiful environments. It is essentially a sequence of well-informed decisions and has the power to improve the lives of end-users. We are experiencing a revolution in communications and computer technology that, while providing connectivity, is also causing face-to-face social isolation; however, we are also seeing a trend of people flocking to cities in search of healthy 'live-work-play' environments that are adaptable to their needs and spaces that connect individuals and communities. As a result, design is adapting and growing at a quick speed, stressing the human experience, and necessitating environments that promote emotional and physical well-being by creating an immersive experience that engages people at all levels, from individuals to entire communities. As a result, the office norm has shifted to not only embrace this concept but merge physical space and human experience.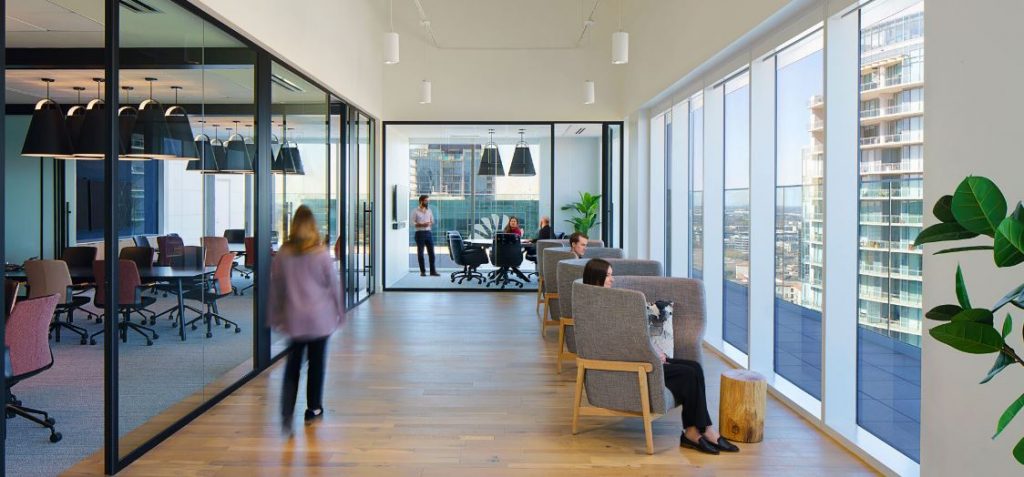 Here are a few benefits on how designing for the human experience can create an elevated user experience in our future workplace:
Branding
Telling a story of how a business came to be is an integral part of conveying the goals, mission statements, and values of an organization.  The understanding of the company's business is essential to the branding process. This entails knowing who the company is, how it operates, and what they want to communicate to the public. The brand has a strong basis to expand upon after the organization identifies its principles. To build a solid customer base and following, the next logical step is to identify the company's target demographic. This helps to better respond to the specific market situation if they understand the demography they are selling to. Once this is established, it is time to provide consistent messaging and branding design across the entire company.  Company colours are vital and should be consistent with the website, furniture, signage, marketing efforts including the interior and exterior of the building.  The company's brand should be easily recognizable in all customer-facing areas. 
Here are some elements to reflect your company's brand:
Artwork
Displaying simple pieces of artwork can add interest and colour to any part of the office, especially in the reception or communal areas. These pieces can become a way of telling a story and showcase the company and messaging in a uniform way. 
Lighting
Focal points are usually highlighted with accent lighting. Bright lighting can be placed in areas where focus worked is required whereas soft and warm lighting can be used in touchdown areas or areas of relaxation.          
Colour
Using brand colours throughout the workplace creates brand recognition amongst team members.  Subliminally it also sends a message of a place of work where they can feel they belong and part of a larger team.  It instills a sense of pride for staff and visitors who invest their time with the company.
Layout
When designing the overall layout, it is important to think of the flow of the workspace. The layout can influence the brand greatly.
Office Design
An office should nurture the individuality of each staff member and their preference of work style. Providing a choice leads to engagement and empowerment within the work environment.  Designing spaces to incorporate various work modes could include activity work zones, social zones, and quiet work zones. By offering these different types of work environments, will help to invest in your employees by reducing stress and creating better office conditions.  
Life Space
Life space is a relatively new term used to replace the word "house" for those who are strategically managing their work and personal space.  During the pandemic, we discovered that our spaces need to be rearranged with some working remote. How do we rapidly and effectively fit that into our present life space? As the hybrid model continues to evolve, the home office concept has already made vast transformations. The way our place is constructed to support us determines how we function in it. Diverse activities in our lives necessitate different surroundings to sustain our body, mind, and spirit.
The demand for human connection grows as new ways of doing business and socializing arise.  The human experience is the most crucial thing to consider when approaching any design project, especially in the workplace. The common theme now is finding optimal ways to utilize the space. The design has an impact on people's lives. A skilled design team will understand the influence that the design of 'space' has on our lives and well-being, both positive and bad. Form and function are enhanced by generating an elevated spatial experience, and people can have deeper, more meaningful moments, interactions, and engagement in the workspace created to suit their work and personal life.