Design, Construct, Furnish – Old Republic of Canada
The journey began in June 2017. The original scope was to provide office design and construction services to renovate three floors. After analyzing the programme (existing floor plans, personnel workflow and existing layout), it became evident that with careful planning, it was possible to downsize from three floors to two. We then worked closely with the client to come up with an office design and space plan that worked for them. By redesigning the office layout to maximize the space on the two floors, our client will save millions of dollars in operating costs over the next 10 years.
Construct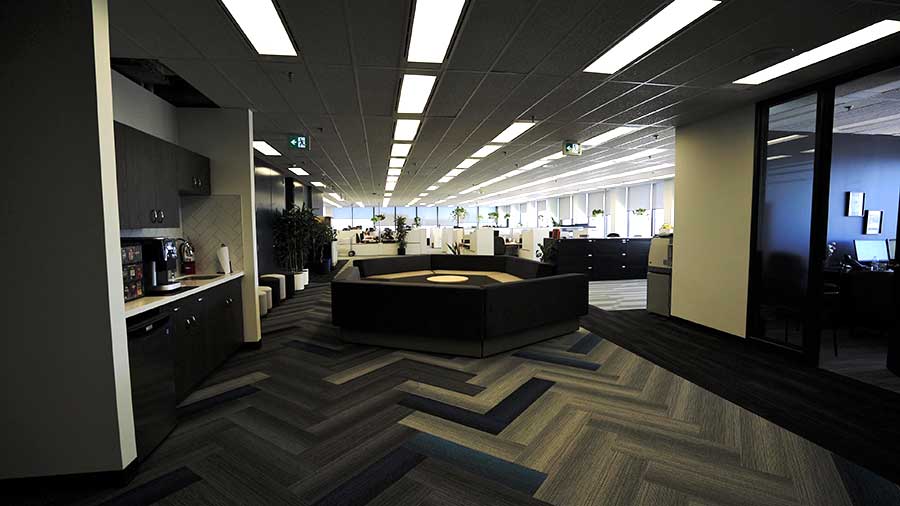 Modifications to the offices began on the 12th floor. A "live site", work was phased so that employees could continue to work on-site during construction. Once the 12th floor was complete, as many staff as possible moved to the 12th floor, and demolition began on the 11th floor. This was a complete office retrofit across the two levels: we installed new carpet tiles, vinyl floors, and walls, custom wall finishes, new millwork, coffee stations, a new lunchroom, new private offices, new furniture and new glass walls in collaboration areas.
Furnish
Besides the office design and interior renovations, we also supplied the new office furniture for the renovated office space, installing new workstations and other office furniture on both floors as each construction phase was completed.
Celebrate
At the end of September, Old Republic employees enjoyed a Pizza Party in the new lunchroom to celebrate substantial completion, compliments of WDI Group. A good time was had by all!
Is it time for your office to be brought into the 21st century? From the initial office design to a superior interior renovation and new office furniture, WDI Group can supply you with a finished product worth celebrating long into the future! Call us today at 1-888-304-3114 to speak to one of our experts about our office design and construction services options.