Building a High-Performance Team in a Post-Covid World
Business leaders know the time for change in the workplace is now.  Once the pandemic hit, companies had to quickly regroup, reinvent, and more importantly evolve.  Now more than ever, the need to accomplish business goals expediently is at the forefront of every work environment.  By establishing a quick response to pivot and to rethink processes this will ensure company survival in these ever-changing times. 
Leadership teams have embraced technology and data because of the pandemic, redesigning key procedures and implementing new collaboration platforms. The new operating paradigm for business—and the creation of an effective post-pandemic organization—is based on technology and people interacting in new ways.
According to global business management leader, McKinsey & Company describes this workforce era as "the need for speed." Greater customer responsiveness, enhanced capabilities, and improved performance in terms of cost efficiency, revenues, and return on capital would all benefit from a company built for quick reaction time.   A company that adapts to agile working methods may also discover that it has a stronger sense of purpose and a healthy organization overall. While these results are achievable, they are not guaranteed unless organizations put in the work.  During the crisis, organizational success depended on integrating into the new operating model, and leaders had to ensure that their teams did not relapse into old business practices. Instead, structural improvements and work strategies had to be upheld to keep up with an inspiring and engaging environment to deliver high performance. 
This indicates that the future of employment has arrived considerably sooner than anticipated. Trends that were expected to take years to manifest have already attained widespread adoption, and there is no turning back. The misconception that work-from-home models are ineffective has been debunked, and work from anywhere has been proven to be successful on a much larger scale.  Employees are actively redefining work, insisting that the time they do spend in the physical office be both safe and fulfilling.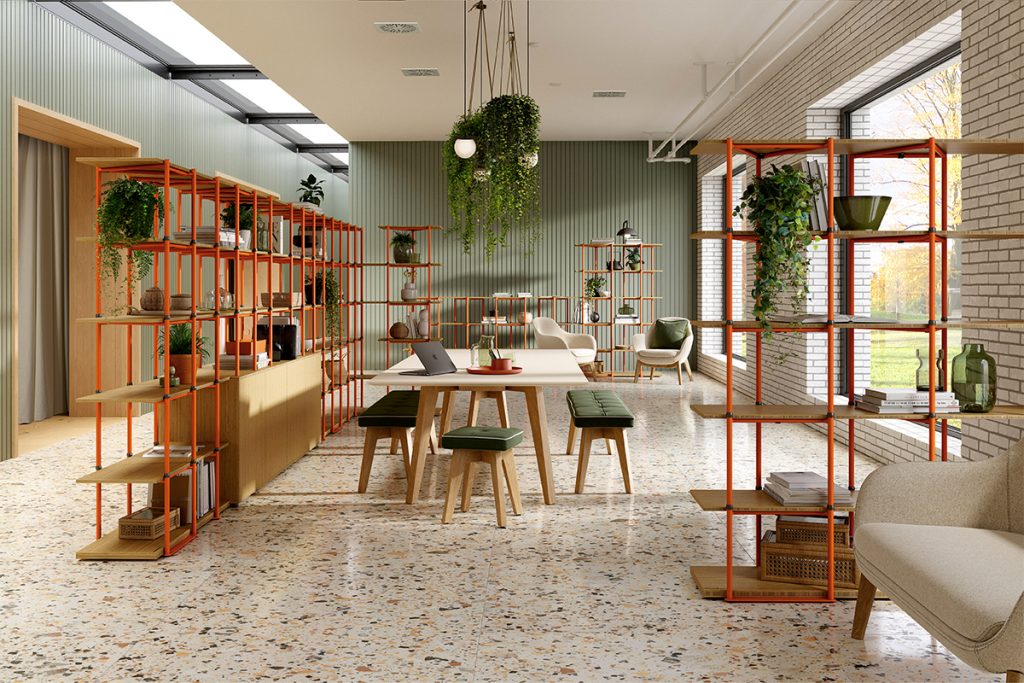 Here are some points to consider when building a high-performance team:
Ensure shared spaces are truly social
The shared spaces should evoke a sense of warmth and vitality in the office.  As vaccination rates increase, staff will want to gravitate toward environments that bring groups together in more comfortable surroundings.  The features that make these places appealing — plush furnishings, luxurious materials, and handcrafted decor.  Ensuring that social spaces are comfortable will encourage more collaboration and engagement. Companies will also need to address the new safety concerns for their staff to achieve an optimal shared environment.
Flatten the corporate structure
McKinsey and Morgan describe that more employees perform well in a fast-paced organization.  Progressive companies are moving away from the rigid office hierarchies of briefing one another, reporting, requesting permissions, and waiting in unproductive meetings. After all that, huddling afterward to have "real talk" discussions just seems pointless.  Traditionalist business practices must give way to leaner, flatter company structures that enable the system to quickly respond to upcoming challenges more efficiently.  Giving staff more access to management can expedite work, where quick responses can be provided and will be beneficial in the long run.
Leverage the benefits of the hybrid model
Companies have seen the difference the hybrid model makes with the new norm of work.  With staff working remotely and/or on-site and varied schedules in between, business leaders have access to other talent and skills from anywhere.  The pandemic has proven that work can be successfully completed virtually and can be done from anywhere.  Leaders must also be aware that proper technology and devices should be in place and regularly maintained to ensure productivity and that staff are working with optimal resources.
No business has been spared from the pandemic's devastation, as well as the societal, cultural, and organizational upheaval it caused. People are naturally curious as to when things will return to normal and what improvements or lessons we have learned from all of this.
Our world, however, has reached a tipping point, and business leaders must seize the opportunity to rethink their operating models to build a better version of normal, one that is better suited to a post-pandemic workforce seeking a new and healthy work experience.